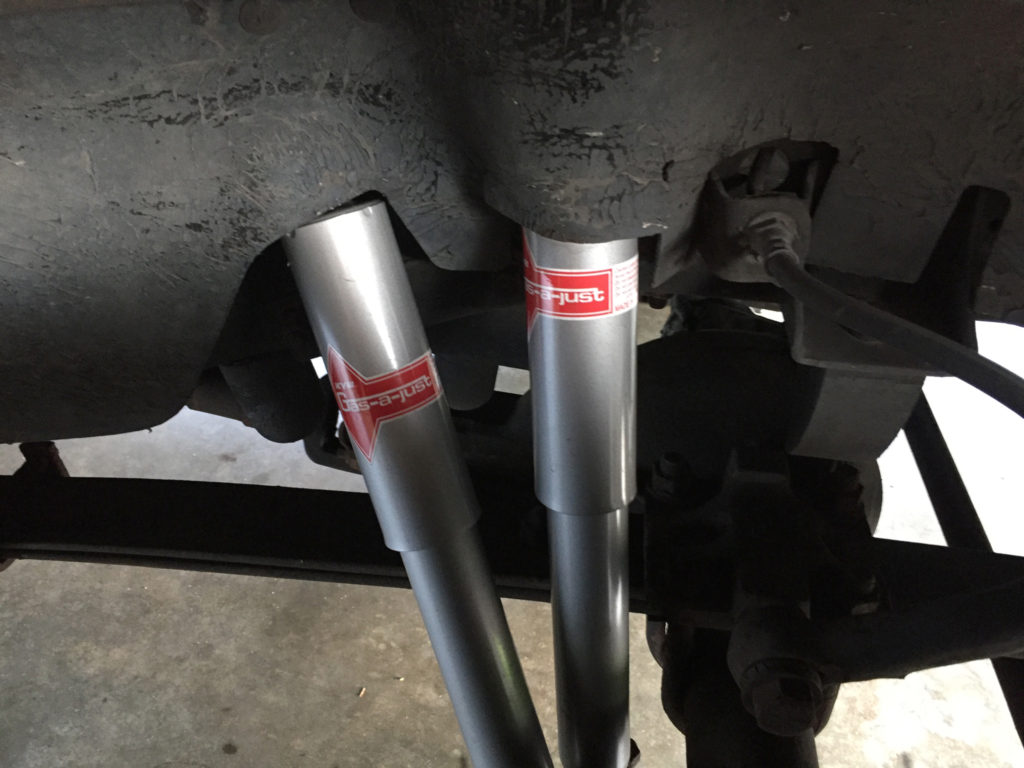 I just installed new shocks in my 1988 K5 Blazer. After reading several reviews and watch several videos, I selected KYB as the brand. I didn't want to spend a fortune, and from what I read/watched, KYB holds up better than the more "off road" brands in the same price category. I wanted monotube shocks vs. twin-tube (difference between monotube and twin-tube shocks). KYB has a more heavy duty series called MonoMax but since my K5 has 6 shocks (has dual shocks up front), I decided that the Gas-A-Just would be enough. If I did more off roading I would have opted for the heaver MonoMax. I gave a little thought to putting MonoMax on the rear, but stuck with the Gas-A-Just all around. I also installed a new KYB steering stabilizer.
So far, I really like the new shocks. I'm pretty sure the ones I took off where the original, or at least extremely old, they had no resistance left at all!
The KYB Gas-A-Just shocks are stiff, but not to the point where you get beat to death. They definitely make controlling the vehicle easier and I would recommend them.
A few notes on installation:
You will need a good 1/2 drive breaker bar, ratchet, large sockets, and patience.
To remove the steering stabilizer you may need a tie-rod end puller or something similar.
Soak the old nuts with penetrating oil (I used Royal Purple Maxfilm).
Remove the wheels and always put the vehicle on jack stands.
The rear driver's side shock top bolt is tricky as the gas tank is in the way. From outside the rear wheel well, you can reach through and position the breaker bar on the nut on the inside of the bracket on top of the frame. If you don't have a helper, you can get it to hang there while you craw under the vehicle and contort yourself to a position where you can loosen the nut. Then move back out from under the truck and work it loose with a smaller ratchet.
I mounted the top first on all the shocks and then I had to use my floor jack to press the bottom up to where I could put the bottom bolt in. Maybe there's a better way, it's frustrating and tricky.
Torque to the proper ft lbs. I used 65 ft. lbs. but you will want to double check that for your model and year, check the documentation page..
Fred